Hello fellow Americans and Halloween enthusiasts! This weekend, the hubby and I are headed off to celebrate our five-year wedding anniversary in Jolly Old England, land of, well, not much Halloween.
Happy anniversary, honey bunny!
Poltergeist
: my first horror movie, still my favorite, and still dang creepy. Stay away from the light!
The scene that changed my life. You think I'm kidding.
Prince of Darkness
: end of the world scary stuff. And Alice Cooper.
The Fog
(thee original, duh!): fog is scary. Also my favorite horror score.
What Ever Happened to Baby Jane
/
Hush Hush Sweet Charlotte
/
Straight-Jacket
: might I suggest a old-school crazy Bette Davis/Joan Crawford triple feature? I do believe all three are on Netflix instant view...
The Blair Witch Project
: still scary, I don't care.
Silence of the Lambs
: also still scary, and still good, all these years later, even when it's diluted for basic cable. I love that my mom took me to see this at the theater when I was 12. Admittedly, a few parts stumped me for years.
Suspiria
: crazy Italian witches. With disco lighting.
Candyman
: certainly doesn't help my fear of mirrors. If I ran into Tony Todd on the street, I would run away. You can't convince me he's not
really
Candyman.
Fire in the Sky
: this movie scares the living daylights out of me. Those aliens are a-holes! Just thinking about the looks on their faces... starring at me... UGH!
I absolutely am going to have nightmares tonight.
Paranormal Activity
: don't listen to the naysayers, this movie is crazy scary. At least, once it's over, and you're trying to sleep, and you have attic access in your bedroom...
The Entity
: ghost raper, heavy metal score... You might never shower alone again. AND... It's TRUE.
Amityville Horror II
: I think this one is scarier than the original, plus it has brother-sister love. Ew!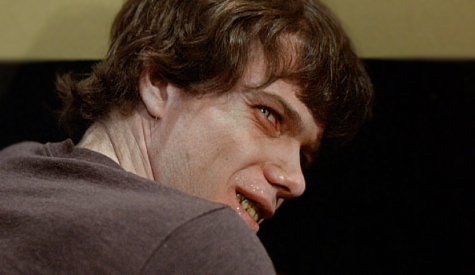 Brother's don't shake hands. Brothers gotta... hug...
The Last Exorcism
: this one might be in between theater and dvd, but if you can find it, holy scary.
The Devil's Backbone
: I never want to watch subtitled movies, but I'm always so glad when I do -- this one is totally worth it. Spooky Spanish.
Uzumaki
: more subtitles, but again, totally worth it for the CRAZY that is this movie. One of the most bizarre movies I've seen.
Should you be looking for a Halloween-centric film, might I suggest
Trick r Treat
, rather than the more obvious (and, honestly, boring)
Halloween
? We enjoyed this one last Halloween (along with the sweet stylings of
Slumber Party Massacre
!).
Finally, if you're just looking for super duper monster fun, any time is a good time for a little
American Werewolf in... LONDON
! I'll be keeping my eye out for any nude men in the zoo...
There are no words. Pure love.