Not having a job sucks. For all the obvious reasons. And some less obvious reasons. And it messes with your head, at least for a little while, almost every day. But one thing I'm so grateful for is the time it's afforded me to spend with friends and family -- surprise visits from Larry and Jordan, coffee breaks with friends -- and when someone is off for a day, I'm always free. This Friday was one such occasion, as Brad had one last vacation day to kill, and I could just spend the day with him without having to calculate my own time off.

On our way home from the airport last month, we saw a billboard for mummies. All I saw was "mummies" and I was sold. The next day, Brad caught a commercial and was sold, too. We decided we must go to there. The accidental mummies are 30-something mummies from a collection of 100 or so that reside in Mexico -- this is the first time they've ever toured the world. They're just regular old people from the 1700 and 1800s, mostly natural deaths, buried in closed cement tombs in Mexico. When families stopped paying on their plots, the bodies were exhumed to be, well, I don't know what their plan was (dump them back in people's yards?), and they found that some of them had naturally mummified. Not all of them, either -- just a random smattering. How weird is that? Anyway, they're in varying conditions, some are almost just skin and bones, but most still have their socks on, the "witch" is nearly fully clothed, and an infant mummy has an eyeball (so creepy). With technology and stuff (yes, I love technology, but not as much as you you see) they've even determined cause of death for most of them. It's really an interesting exhibit and, honestly, I think even better than the human body exhibit. Weekday bonus: We had the entire exhibit to ourselves. Ahhhh. So nice. For your benefit, I even snuck a few photos illegally. Don't tell. :)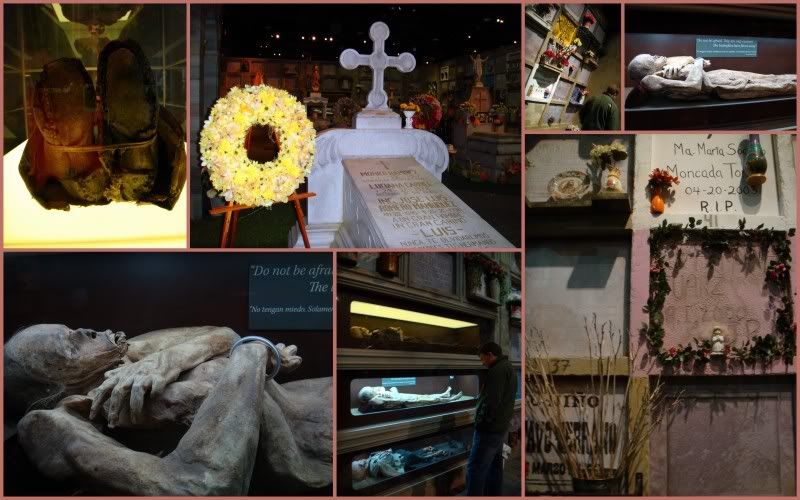 Top left: Mexicans of days past have teeny feet. Like Brad! Throughout: They re-created the cemetery at the entrance of the exhibit. You know me and cemeteries. Even fake ones. Bottom middle: Still in the fake cemetery, pre-exhibit. Only the middle mummy is real (they must not have known much about this guy -- all the other mummies got individual displays with info placards and such).



After the museum, we headed down the street for our annual trip to Slows for a late lunch. I wasn't sure how I'd fare, non-meat-eating and all
, but I actually had a hard time deciding what to order -- in a good way. There is a fake chicken sandwich, a catfish sandwich, a mac and cheese entree (heavenly), and a ton of delicious-sounding sides. I went with the catfish sandwich, which was only ok (I want to go back to try the fake chicken!), a mac and cheese side (which is quite sizable and only 2.99), and cornbread. The mac and cheese is just awesome -- super cheesy, lots of pepper... Yum. And the cornbread was delicious, making up for the not-so-good hunk I had last year. (I wish I had the mac and cornbread in front of me again right now... Mmmmmm.) I saw Michigan-made cherry mead on the drink menu and after hemming and hawing for a while went for it. Glad I tried it, but I wouldn't order it again -- it smells super boozy and tastes super boozy and just wasn't really my thing. I mislead Brad into ordering the wrong sandwich, so he was bummed about that, but I think he enjoyed the new sandwich well enough (just means we have to go back again soon so he can get the right sandwich!). Then we got tempted into dessert with tales of banana pudding. So glad. It was thick and had chunks of bananas and vanilla wafers. The perfect ending. *sigh* Here's a Slows pictorial for your viewing pleasure.




Thanks for a super duper awesome date day, hubby. And for letting me take pictures of you at Slows, even though you were soooo embarrassed by it. xoxo

And while I've got your attention, a quick foodie update. Last week we moved on to trying fake chicken.


I cooked the tenders and chopped them up, then mixed them in with some corkscrew noodles, oil, butter, artichoke hearts, fresh parsley (which, honestly, I don't really like -- but I had it so I wanted to at least use some of it), lemon, and pepper.
Guess what? Fake chicken is actually....... very tasty!! The fake tenders were really good and the texture was fine and I was just really surprised and pleased. Get me some protein and other good stuff, with little fat or calories. Score. I bought two more packages. No pics, but today we even braved fake beef crumbles. I cooked it up in a skillet, added some Ragu (Brad's favorite!), and poured it over some spaghetti. And it was super tasty, too!! And Brad liked both meals -- it wasn't just me. Three cheers for fake meat!