Note to self: Start knitting with thicker yarn!!! I am well behind on my family-xmas gift-knitting projects. Shame on me! I have made some progress, though. I finished the golf club head cover I made for my father-in-law (although I'm hoping to do another one by Xmas). I'm about 2/3 done with my mom's scarf. But I'm still not even halfway done with the sailor scarf for my dad I've been procrastinating -- at least with that one, I had the foresight to use big needles, if not chunky yarn.


If I needed more proof that Christmas is coming sooner and sooner, there was some surprise advance cheer delivered today.


My two pooches, via a very sneaky husband, sponsored Comet, a three-year-old black lab, at the humane society in my name. Of course that Bradford always knows how to make me cry, and exactly how to spoil me come Christmas. (Although it wasn't supposed to be an early Xmas gift; said sneaky husband isn't actually so sneaky. It came in the mail today - ha!) Hugs and kisses to my hubby, and my pooches, too, of course.
Now which one of you is going to adopt Comet?!


As if I somehow knew the pooches would need a thank you gift, I'd picked up some fleece throws (for $2.99 -- score!) for them. Trust me, there is no toy in the world these two love more than blankets. Heidi always had her trusty Stewie by her side as a pup, but as she got older, and George joined the team, they started actually eating (rather than just angry biting) them and we took them away (this didn't stop Heidi from angry biting all MY blankets). It's been so cold lately, though, that they both have been curling up into teeny balls and tucking themselves in for heat. So blankets it is. Here's a glimpse of them at play with their early Xmas gifts.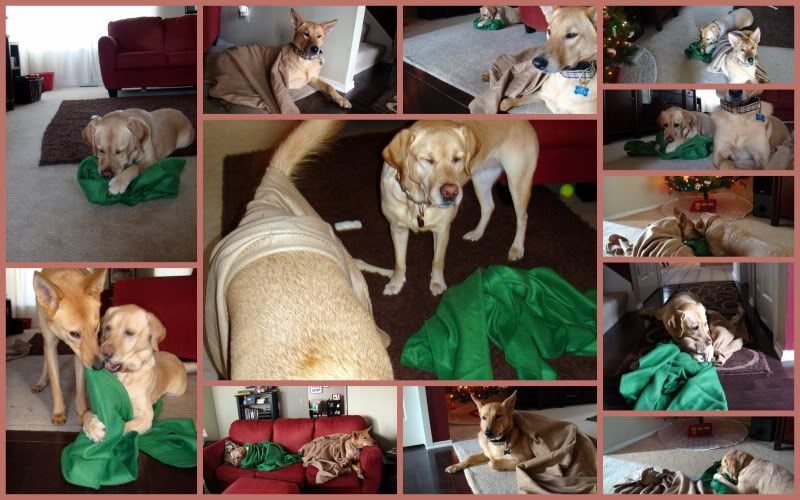 Holiday treat update

: I ran out of my candy cane oreos this week, so today I stocked up. Yes, I bought four packages. Don't judge. Mmm. Also this week I discovered the yum that is Hershey's mint chocolate candy canes. I've loved everything mint chocolate since I was eight years old and Bubbalicious released a mint chocolate gum (it was a big deal!). I'm all about sweet treats with lasting power, and one of these provides many minutes of delicious joy.