How do you execute an awesome retro beach shrimp boil?
First, come up with a plan of attack. Ceile, Hillary, and I have been talking about doing this for years, and Ceile finally said, "LET'S JUST DO IT!" We picked a date (July 13),
picked a recipe
, and divvied up responsibilities. Ceile was in charge of all the boil accouterments (veggies, sausages, etc). I was in charge of seafood, liquor, and tunes. Hillary took on beer and dessert as well as hosting (and fire manning duties via Troy) duties.
Then, send out a sweet invite, insisting attendees dress appropriately. We're talking hair bows and short shorts.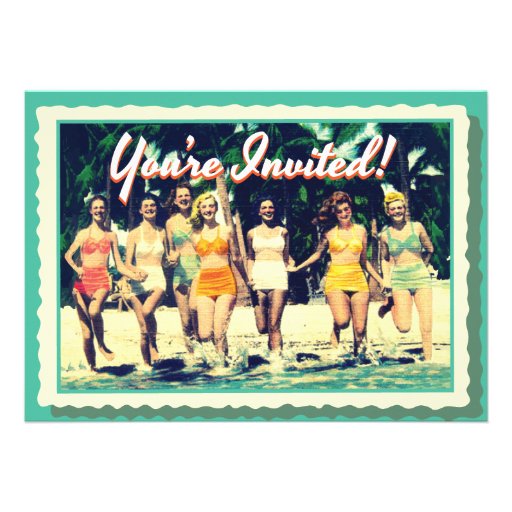 Next, create a swinging playlist, with a mix of retro and beach-themed tunes, like "Ukulele Lady" by Arlo Guthrie, anything from the Stand Be Me or Dirty Dancing Soundtracks, the Jaws theme, Jack Johnson, and a personal favorite of mine -
the Cigar Store Indians, who I've seen live many times at Ann Arbor's Top of the Park.
Oh, and, of course, a little "Summer Girls," just cause.
Once the party rolls around, you have to have a solid fire pit plan. Lucky for us, we have an engineer in the mix (go Troy!), so we knew the fire had to burn for an hour, then the water would take just around 15 minutes to boil. Then we just followed the recipe (which we have some tweaks to make to the next time around).
While the potatoes and corn simmered, we enjoyed some delicious punch (Cape Cod Punch, from the book Porch Parties [thanks, Lisa S.!]) and Nude Beach beer.
Then you take a few moments to take in how adorable everyone looks...
Even the kiddoss were in the spirit!
Finally, it is time to throw in the shrimp........
And very quickly pull the pots from the fire and plate up the goodies!
And then, FINALLY, it is time to dig in, daddios.
Gotta say, we killed it. Sure, there are some tweaks for next time (a little more spice, a little less time for the sausage, and, oh yeah, pots with rubber handles? That's gonna melt!), but man, what an awesome night. Seriously. And, obviously, the key ingredient? Some super duper awesome friends. Who wouldn't want to to tackle this adventure with these groovy cats?